Coach Moody will host a football Parents' Meeting on Monday, August 14 at 6 pm in the High School Auditorium.
Watson Chapel is excited to announce our Meet the Teacher and Open House events for the upcoming school year! Please see the attached image for times and dates OR go to our website and click on BACK TO SCHOOL INFORMATION. We can't wait to see you and your students!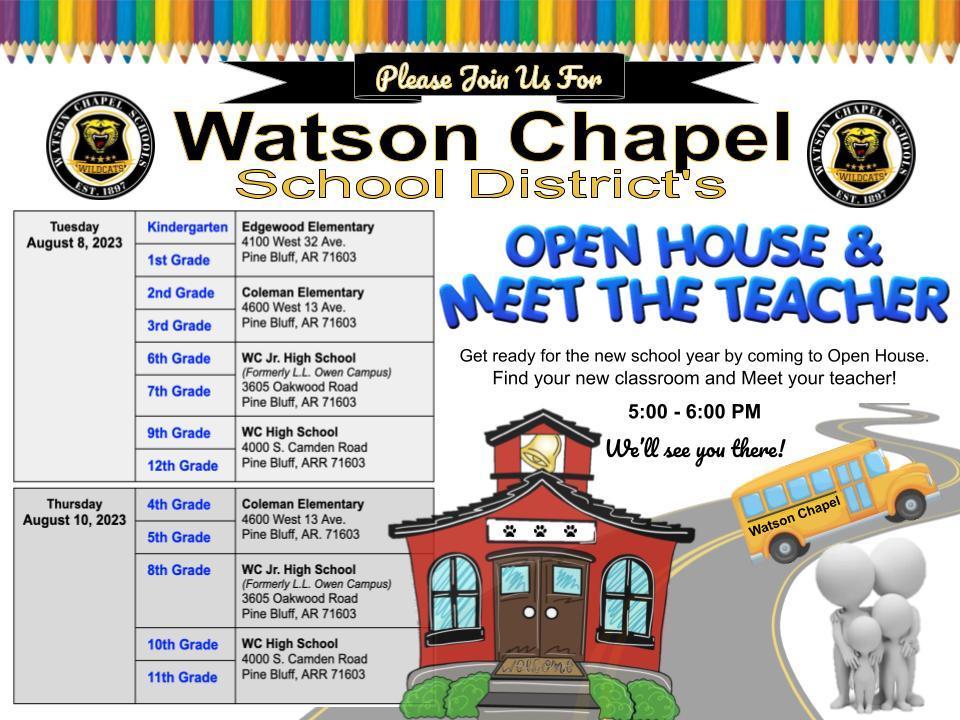 Updated letter regarding changes at Watson Chapel!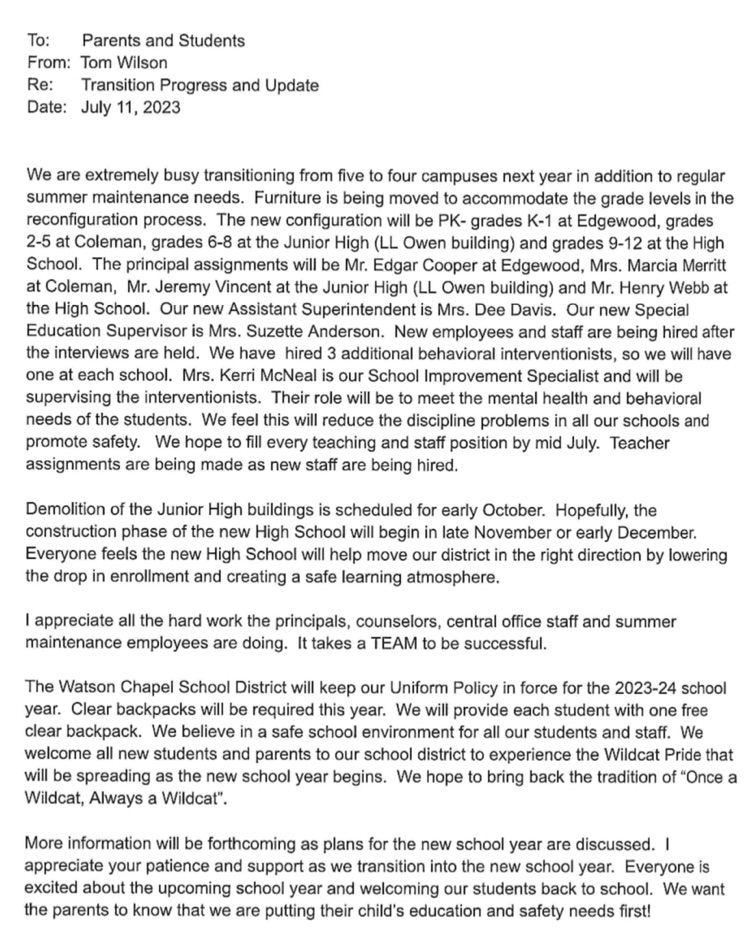 Please see the attached message with update happening at Watson Chapel.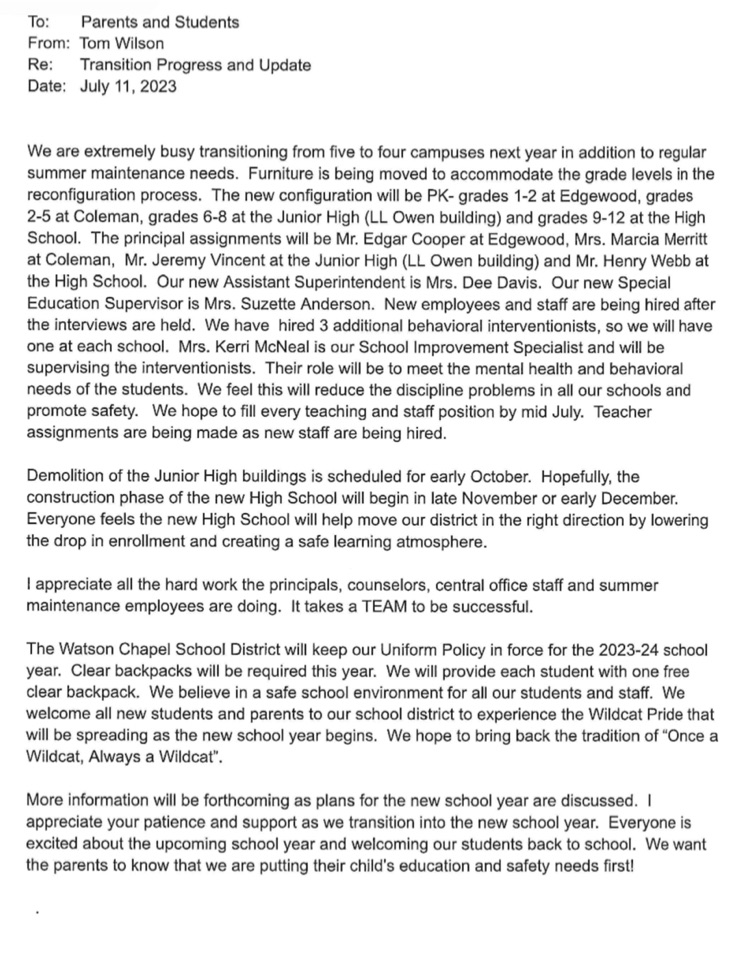 The 2023-2024 Uniform Policy for Watson Chapel is shown in the attached image. Updates include the addition of black pants for all grades, clear backpacks ONLY, and red shirts for 6th grade students.
BOARD MEETING CHANGE - The regularly scheduled board meeting for tonight has been moved to THURSDAY, JULY 13 at the same time and place - 6:00 pm in the Central Office Board Room.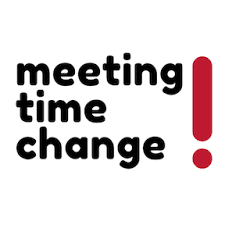 Watson Chapel will continue to enforce the uniform policy for the 2023-2024 school year. Clear backpacks will also be required this year. Each student will receive a FREE clear backpack from the district. It will be given out at orientation and/or the first day of school.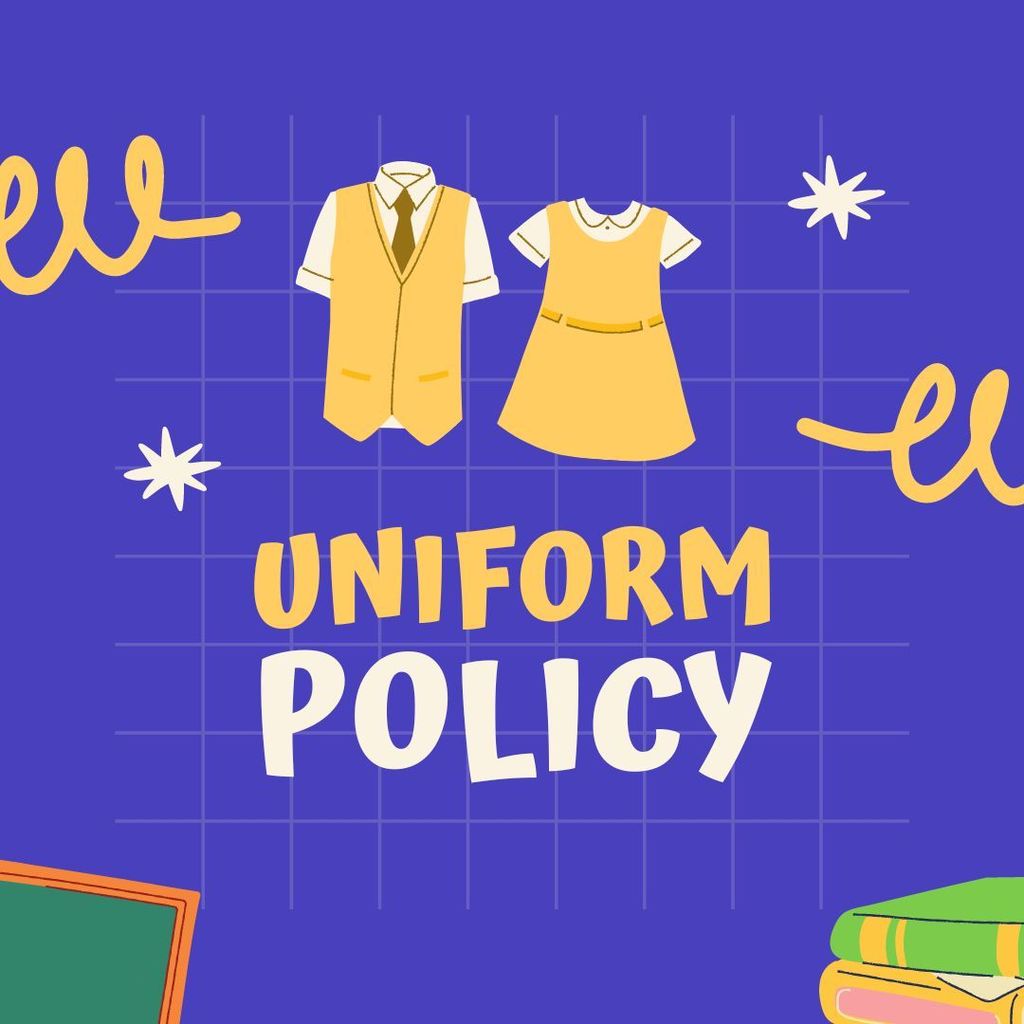 Watson Chapel will continue to enforce the uniform policy for the 2023-2024 school year. Details are outlined in our student handbook.
We'd love to have you join us at Watson Chapel School District! Visit wc.tedk12.com/hire to apply.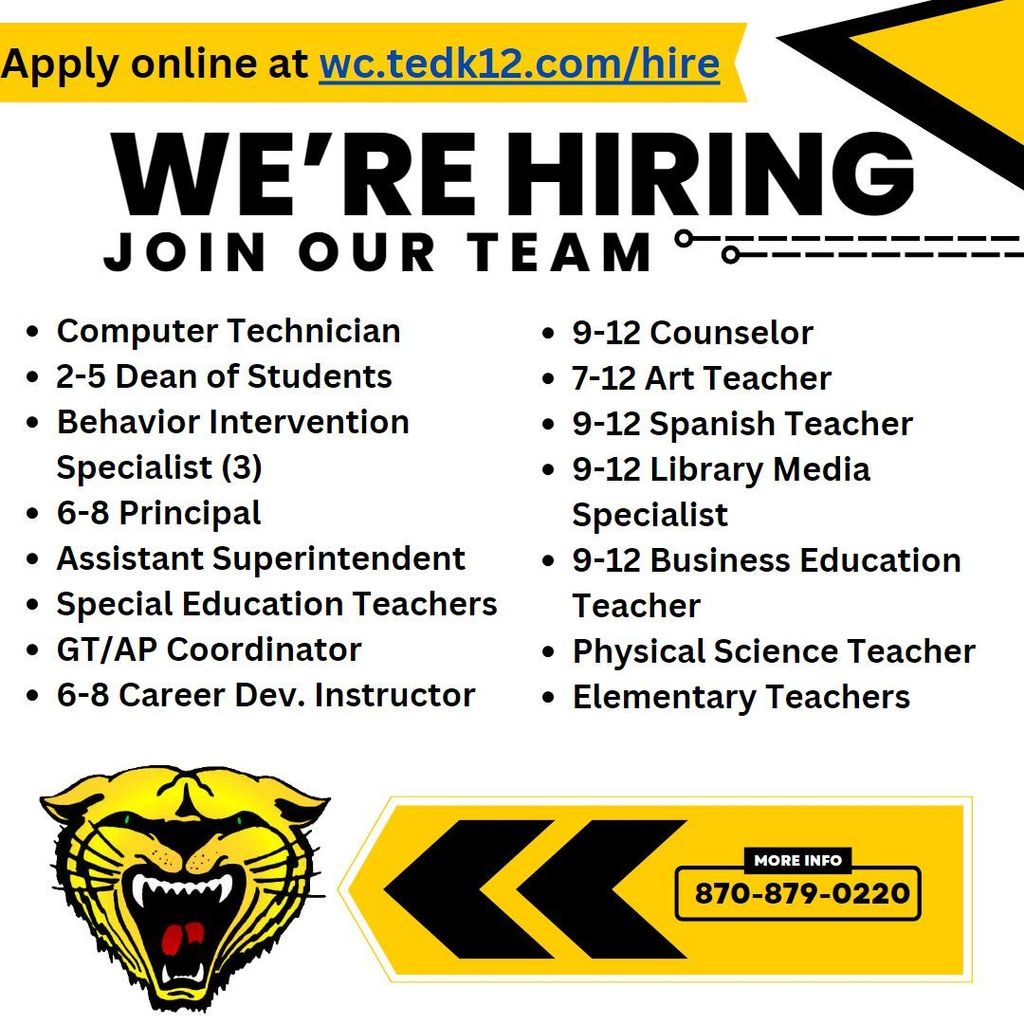 Watson Chapel is excited to announce job openings for the following positions! Please apply using this link:
https://wc.tedk12.com/hire/index.aspx
Secondary Counselor, Business Ed, Secondary Art, Spanish, Library Media Specialist, Physical Science, and Elementary Teachers.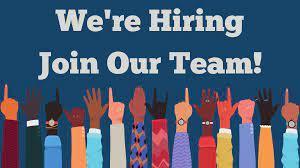 Please see the attached letter from Superintendent Tom Wilson regarding the reconfiguration of grades and schools that were approved by the school board on Monday, May 8.
Congratulations to the WC Jr Girls Basketball Team for 2023-24 Season!!! Jr Girls Team E'Niyah Dement Jamyah Wilson Anejia Byrd Kourtni Tripp Kaitlyn Newson Tiya Crutchfield La'Niyah Biley Aariyah Allen Chassidy Terrell Kaylei Willingham Da'Miyah Shaw Eriana Hudson Trinity Love Amarea Miller Skyler Williams Derriyanah Shaw 7th Grade Team Chassidy Terrell Kaylei Willingham Eriana Hudson Trinity Love Amarea Miller Derriyanah Shaw Alaysiah Jones Sasha Miller Amarea Watkins Amya Madison Zariah Whaley Maya Sission Alaysia Burnett LaJavien Cross Marian Brown Symone Gray Da'Riah Williams
Thank you to the participants of the Chapel's Got Talent show from the JH and HS! Enjoy some pictures from the show held on Friday, April 14.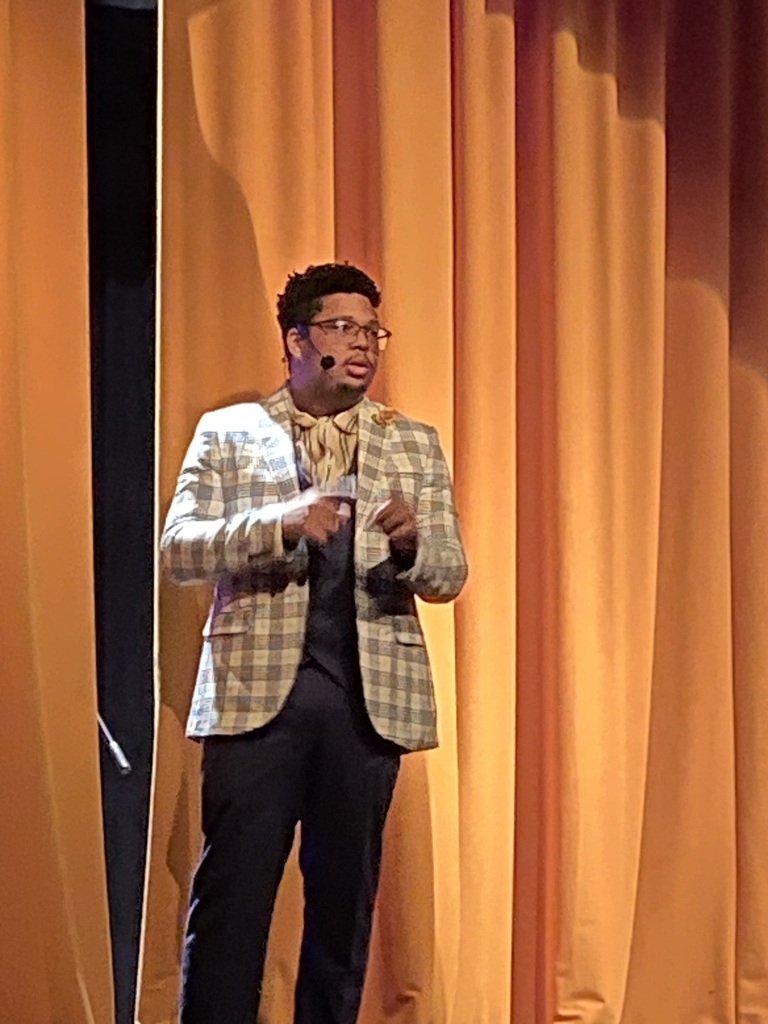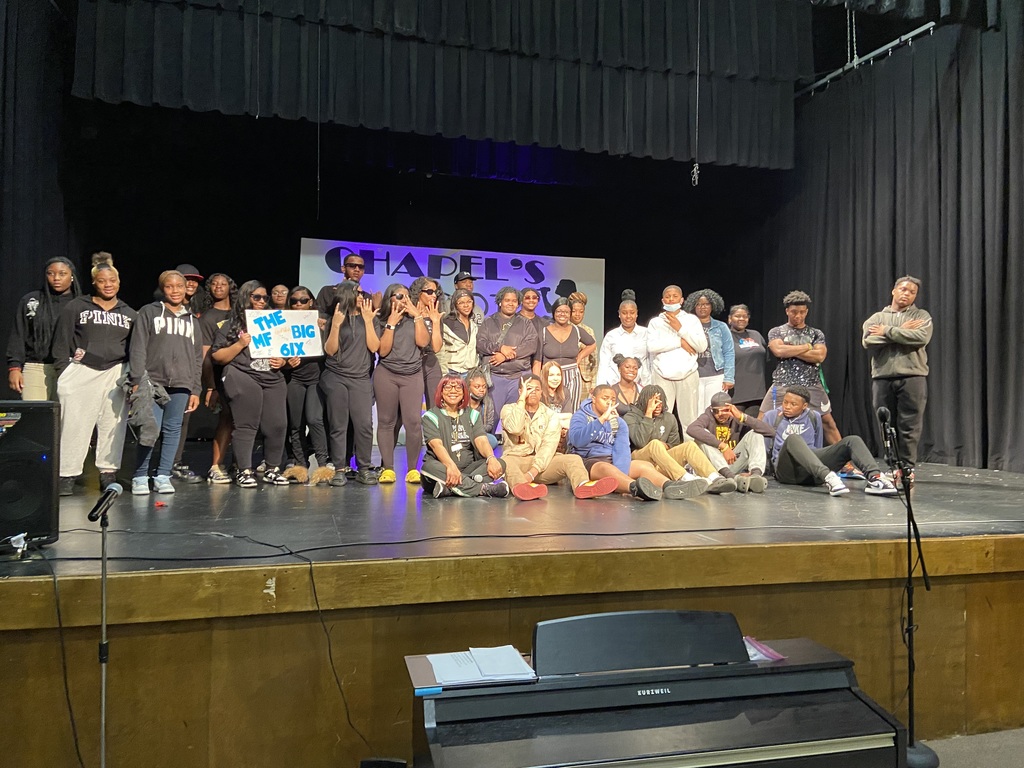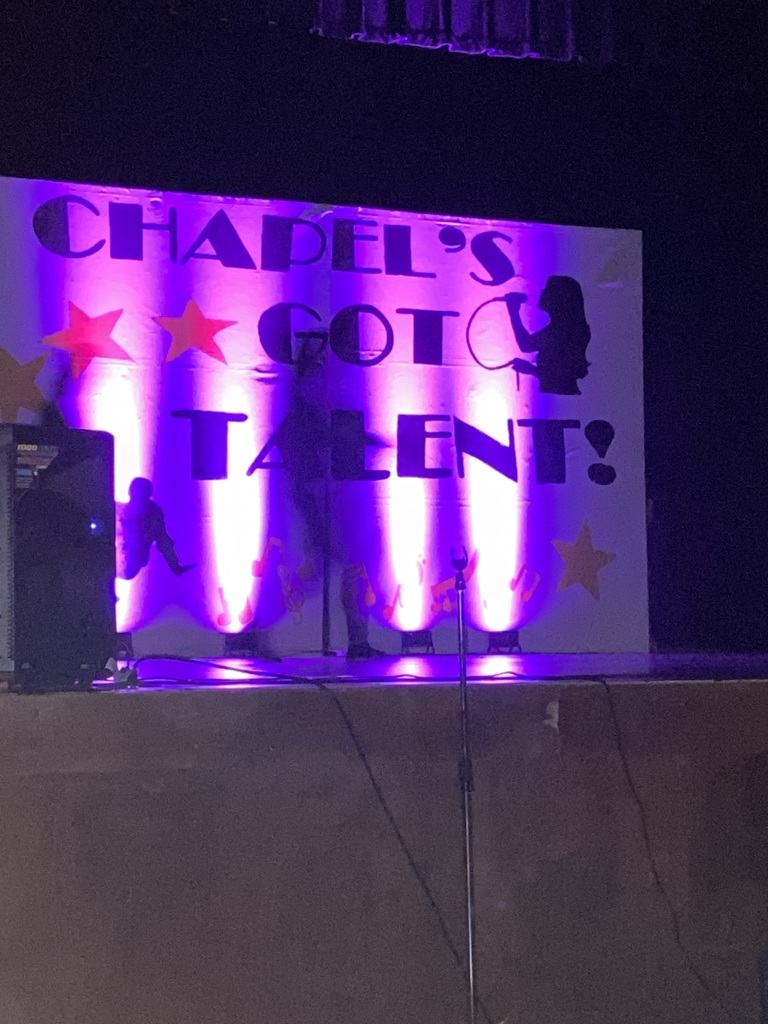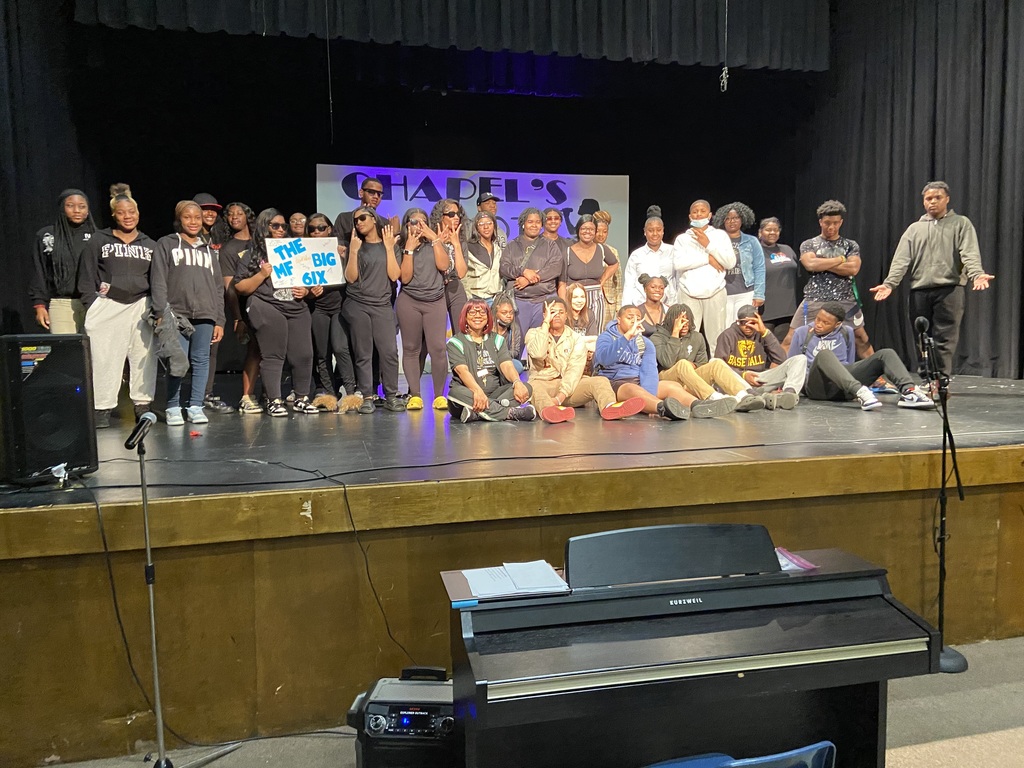 Celebrating our Assistant Principals💛🐾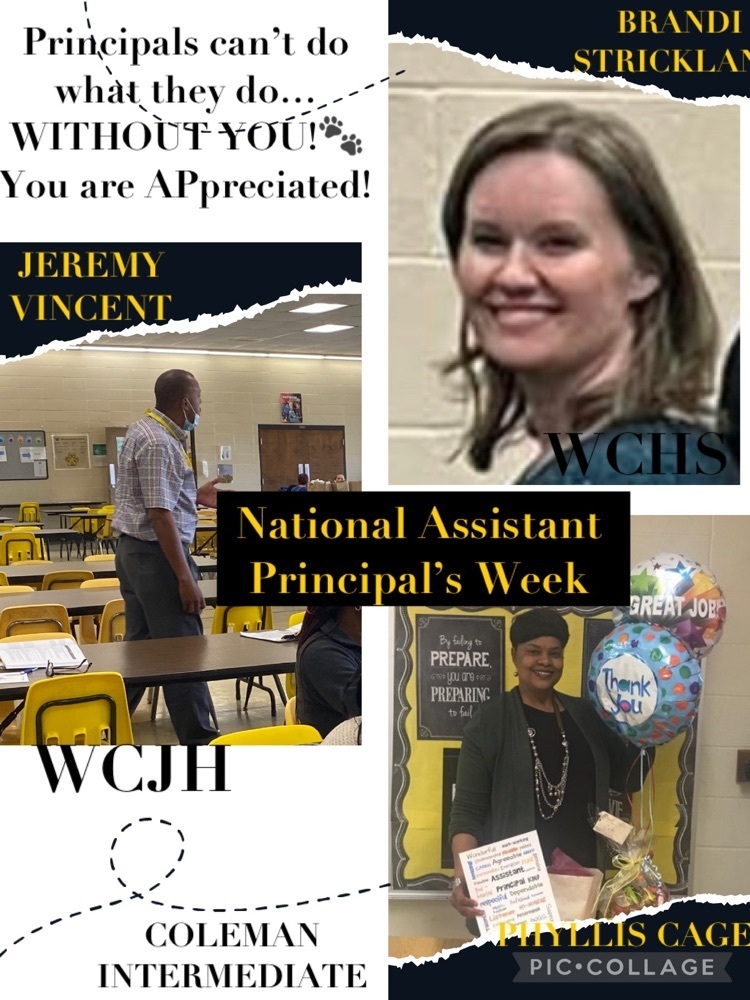 Wildcat Pride! Congratulations!!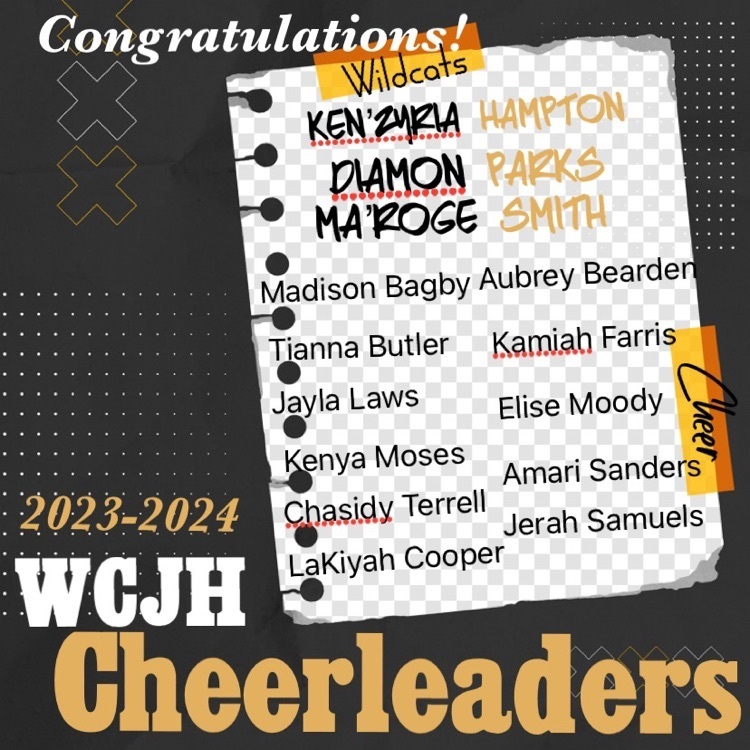 Parent /Teacher Conferences are scheduled to occur Thursday, March 16, 2023. Students will dismiss at 2:30 p.m. Each school will provide parents the specific times and details regarding the conferences. Students and faculty will observe Spring Break the week of March 20, 2023 to March 24, 2023. WCSD will resume classes on Monday, March 27, 2023 at regular time.
Congratulations to Mrs. Johnson and the Watson Chapel Choirs for earning a Composite Level ll - Excellent Rating during their Choral Performance Assessment (CPA) on Thursday, March 2, 2023, at Lakeside High School in Hot Springs, AR. They were accompanied on the piano by Mr. Faron Wilson. Mrs. Jessie Clemmons served as the Choir's Chaperone. Each Choir sang two songs. The Junior High Choir sang "In Terra Pax" and "Let There Be Peace" with solos by Jayden Carroll and Matthew Givens, while the High School sang "Pie Jesu" and "Shut De Do", with solos by Shanice Green and Mon'Tavion Haywood. We are super Wildcat Proud of our students! This was the first time that the Watson Chapel Junior High Choir attended CPA, and they performed very well! The Watson Chapel High School Choir received a Level llR Rating on their stage performance. The R means the Adjudicators (judges) Recommended them for the State Level Choral Performance Assessment Competition on April 12th!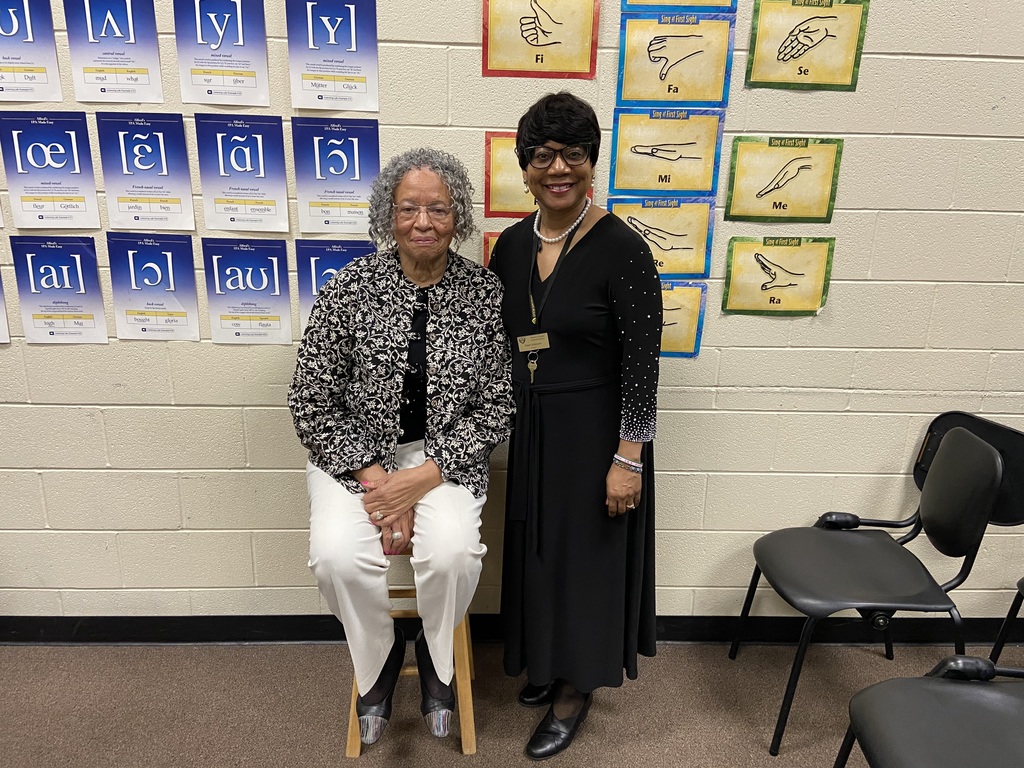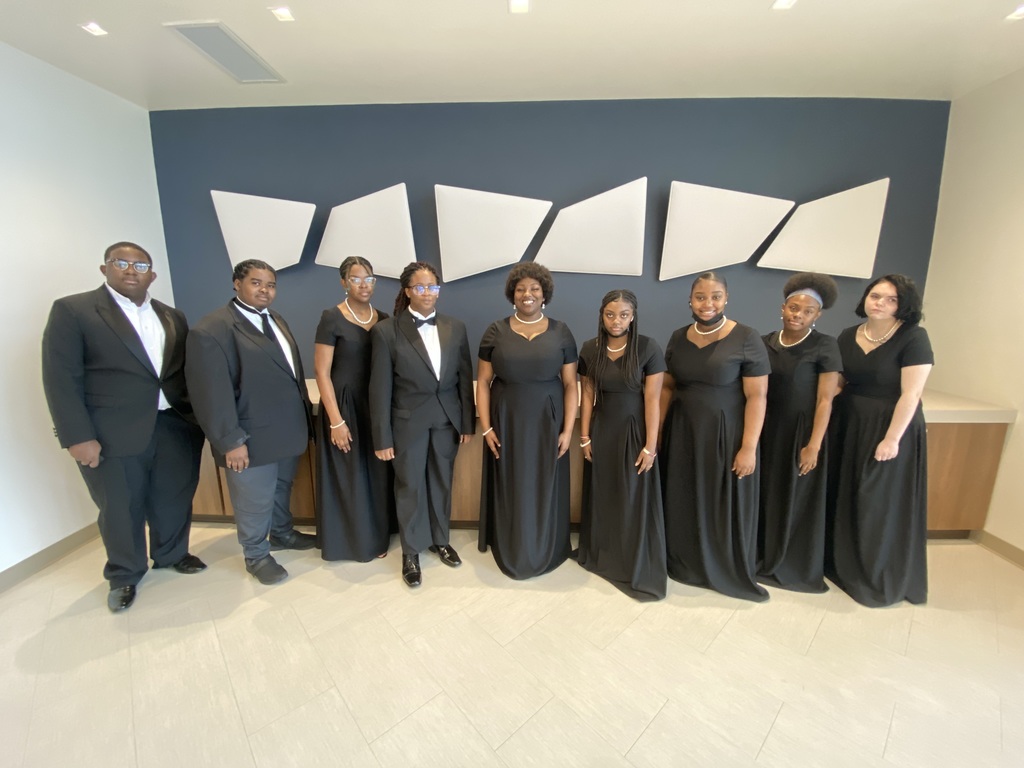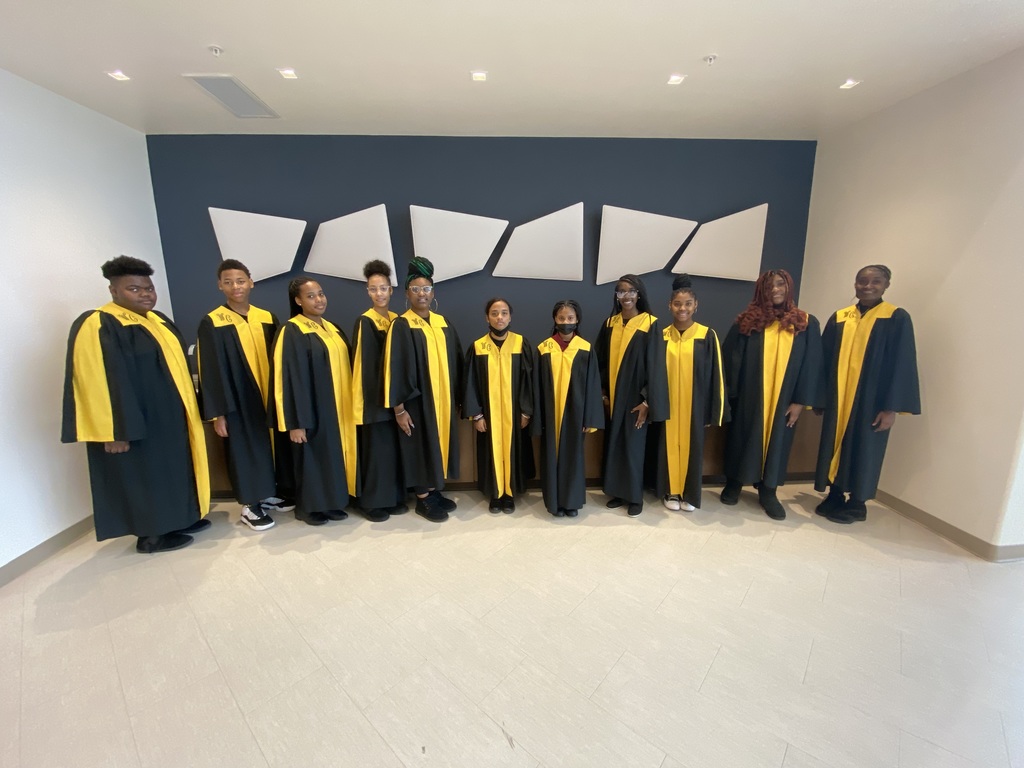 The competition has begun! Each WCJH classroom is raising items to support our National Beta Week Service Project. Collection will end Thursday March 9, 2023. The 7th Grade, 8th Grade, and 9th Grade Homeroom that raises the most items will receive a pizza party sponsored by the Beta Club. Let's show the community that we care and support our National Beta Club. The items collected should be new. 7th Grade: Can Goods and Non-Perishable Items (Donations will go to Neighbor to Neighbor) 8th Grade: Personal Hygiene Products (Donations will go to the WCJH Counselor's Office) 9th Grade: Socks and Slippers (Garden Pointe Nursing Home)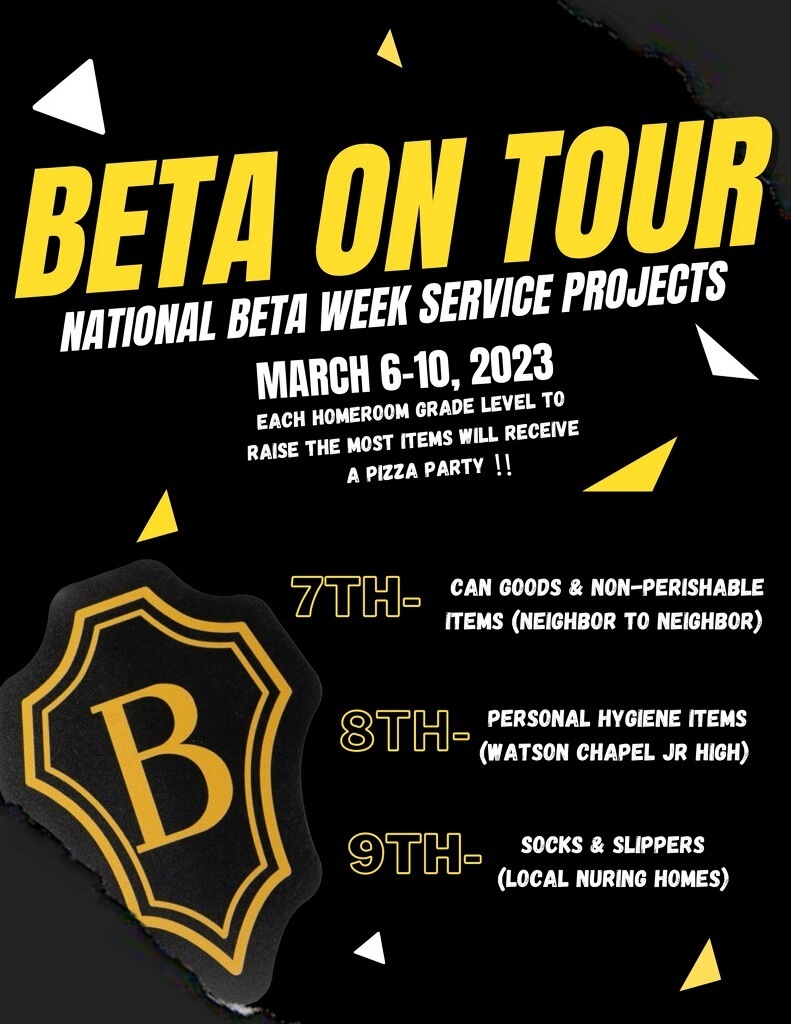 Basketball Regional, State, and Finals tickets will be hosted through GoFan, the digital ticketing provider of the AAA. For anyone that will be traveling to the games for the Regional Tournament and/or State Tournament all tickets for admission must be purchased at
https://gofan.co/app/school/AAA
. For additional information regarding the AAA Ticket procedures, please see all of the information below as well as the prices of tickets for each tournament. Additional Assistance: Should your fans need assistance, please have them reach out to GoFan's fan support email at
Service@gofan.co
. Fans will receive their tickets via email. They can also download the GoFan mobile app (Apple users only) and login to access their tickets. This event is a mobile entry event--tickets must be presented on a smartphone for entry. How to Guide for Purchasing Tickets:
https://get.gofan.co/digital-ticketing-guide
ADMISSION – Regionals – $6.00 for adults and students. State - $7.00 for adults and students. State Finals – General Admission $9.00 each session. No reserved seats will be sold. When ticket holders leave the arena they must purchase a new ticket to re-enter. ADMISSION POLICY AAA PASS – Admission should be charged for ages 5 and up. Admittance is bypass or digital ticket only. The Arkansas Activities Association honors for admission to Regional, State, and State Finals the DIGITAL PHONE PASSES, CURRENT PREPRINTED AAA PASS BEARING THE AAA LOGO, an Honorary WHITE LIFETIME PASS or a current AAA Media Pass for Regional and State Finals. Note: Picture ID will be required for admission at the pass gate.
WCJH Beta Club struck again tonight! They along with their sponsor, Ms. Lambert inducted 19 members into the JH Beta Club. Ms. Lambert has had three inductions to ensure ALL eligible candidates had the opportunity be inducted. Whether it was a basketball game, band, JROTC Drill, etc. students did not have to pick or choose... she made sure they received the honor that was due. Thank you Ms. Lambert.